Event Overview
Airfinance Journal Dublin 2020
Taking place on 21st - 23rd January, Airfinance Journal Dublin returns to the CCD.
•    Over 2000 aviation finance professionals operating worldwide 
•    70+ private meeting rooms and the ability to set up meetings and request attendance from your 'wish list', who may already be in attendance
•    Cocktail and networking receptions 
•    Exhibitors showcasing products and services within the sector
•    Hundreds of high-level attendees from the UK and worldwide (airlines, lessors, banks, government agencies, manufacturers/OEMs, law firms and others service providers)
•    150+ speakers from top airlines, lessors, financiers, OEMs, service providers from likes of GECAS, AerCap, MBA, Avolon, Avitas, Aviation Capital Group, Deutsche Bank and more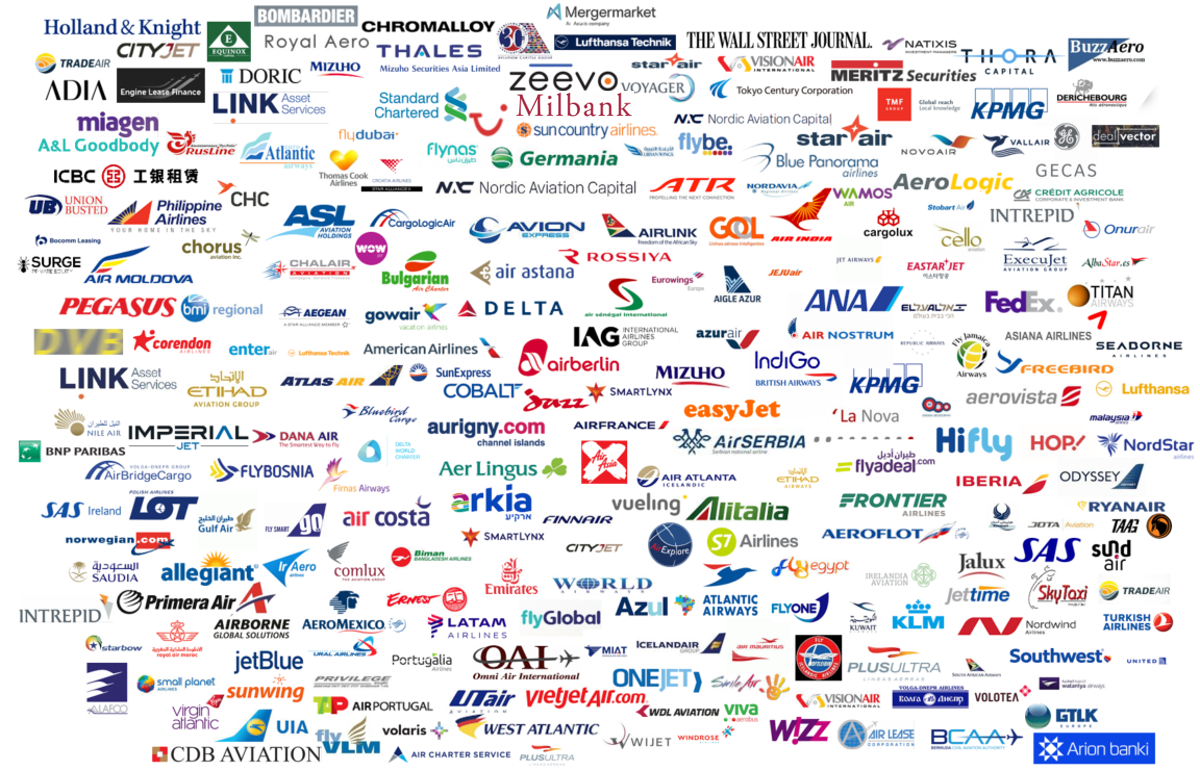 Get in touch
Sponsorship: Samuel Webb | samuel.webb@airfinancejournal.com | +44 (0) 20 7779 8415
Speaking: Jonathon Leader |  jonathon.leader@airfinancejournal.com | +44 (0) 20 7779 8481
Attending: Victoria Warrington-Green | registrations@airfinancejournal.com | +44 (0) 20 7779 8281
Follow us and share your content!
    @AirfinanceNews
    Airfinance Journal 
#afjdublin
Event Partners
Agenda
08 00 AM

Registration & morning refreshments
08 55 AM

Chairperson's opening remarks
09 00 AM

Aviation capital markets review and outlook
Where are we in the industry cycle?
Traffic growth forecasts, will they materialise?
How much liquidity is currently chasing aviation assets and what impact has increased levels of liquidity had on the industry overall?
10 00 AM

Which aircraft is perfect for your ROI and risk profile?
What do investors need to understand about how an aircraft's liquidity impacts its suitability in different portfolios?
What are the key differences between narrowbody, widebody and regional jets in terms of investment?
How does an aircraft's age factor into your investment calculations and how can you best maximise yield in the mid to end-of-life sector?
10 40 AM

Morning networking break & refreshments
11 10 AM

How to mitigate risk when investing in airline equity
Investing directly in airlines has traditionally been considered risky business, with high profile insolvencies throughout Europe defining much of 2018/19, where can yield be found?
Why have more airlines not attempted to get rated and what impact does this have on potential investors?
What lessons can be learnt from failed experiments such as Alitalia and Air Berlin?
11 50 AM

Finding yield in the lessor bond market
Publicly listed lessors have issued billions of dollars-worth of paper in recent years, with Avolon's mammoth offering of $2.5 billion unsecured notes being a stand out, how can investors maximise yield in this marketplace?
What difference do varying lessor business models make to investors with varying ROI and risk profiles?
Why have publicly listed lessors been perceived to be undervalued in the stock markets and what impact does this have on potential investors?
Investing in lessor ABS pools and sidecars.
12 30 PM

Networking lunch
14 00 PM

Assesment of financial reporting under IFRS 16
Operating leased assets are now on balance sheet and analysts face the "disappearance" of aircraft rent as an expense item under IFRS 16 (but not under ASC 842). What are the other dissimilarities between the two standards?
Has comparability been enhanced or degraded and what workarounds are available to enhance comparability?
What disclosures should airlines provide to assist users of their financial statements evaluate their financial health?
14 40 PM

Just how strong is the global airline industry?
The strength of a select few highly performing airlines can often skew the average perception of the industry's strength, what data do investors need to appreciate the fuller picture?
What differences exist geographically between airline markets?
Is further consolidation necessary in Europe and emerging markets to achieve sustainable profitability and create value for investors?
15 20 PM

Afternoon networking break & refreshments
15 50 PM

Expansion of the private placement market into aviation investments
What opportunities exist for investors in the private placement market and what structures have we seen utilised?
What advantages can be given for privately placed EETC's and unsecured offerings compared to the public markets?
How can buy-and-hold institutional investors ensure greater returns in less liquid markets?
16 20 PM

Planes, trains and automobiles - Where does aviation place in the transportation sector?
How do asset value forecasts compare between aviation, shipping and the automobile industry?
What advantages does aviation enjoy over other transportation assets?
What are the fundamentals that investors need to understand about investing in the transportation sector to ensure ROI?
17 00 PM

Chairperson's closing remarks
17 05 PM

Networking drinks reception
08 00 AM

Registration & networking breakfast
09 45 AM

Chairperson's opening remarks
09 50 AM

The last 40 years of aviation finance: The evolution of investment banking
Greg Lee,

Managing Director

, Goldman Sachs
10 30 AM

Will a fragmented European airline market maintain profitability in 2020?

Structurally, the European airline market is significantly more fragmented than in North America, with more than half the continent's profits being generated by the "Big Four".  Hear from the leaders of some of Europe's most successful airlines give a rare insight into the fleet and financing strategies that keep them ahead of the competition.
11 10 AM

Morning networking break & refreshments
11 40 AM

Is aircraft leasing now a low margin business?
A substantial increase in competition in the operating leasing space have driven margins for lessors lower, is this to be considered the new normal?
Will contract terms previously considered imperative to lessors continue to erode?
How well positioned are aircraft lessors to weather more challenging macro-economic factors such as rising fuel prices and interest rates?
12 20 PM

Networking lunch
14 00 PM

Financing the fleets of the future - which structures will dominate 2020?
Airline profitability has been under pressure across the board in 2019, with cost of fuel and capital increasing – how will airline treasuries counteract these trends?
Which financing solutions vary across differing airline business models?
Which assets are likely to be in high demand in 2020?
14 40 PM

Afternoon networking break & refreshments
15 10 PM

How can the aviation finance industry fully capture the potential of diverse talent?

The benefits of a diverse workforce offering varying perspectives have long been espoused in the broader corporate world with many corporations viewing inclusion and diversity as fundamental segments of both commercial and CSR strategies. How far does the aviation finance industry have to go in fully capturing the benefits of truly diverse talents at all levels of representation?
15 50 PM

Pilarski says...drink!

Back by ever popular demand, hear one of the industry's most prominent & respected economists give his forecast on the industry's future and what headwinds we ought to be cognisant of – in his trademark entertaining style.
16 20 PM

Lessor CEO interviews

Hear the CEO's of the world's most influential leasing companies discuss what they see as the future of aviation finance and their strategies for achieving it.
John Plueger,

Chief Executive Officer & President

, Air Lease Corporation
17 40 PM

Chairperson's closing remarks
17 45 PM

40th anniversary celebratory drinks reception
08 00 AM

Morning networking & refreshments
08 55 AM

Chairperson's opening remarks
09 00 AM

Wizz Air maintains investment grade
09 30 AM

Big Data and who will control it?

The prospects for players across the aviation industry to utilise "big data" to drive efficiency are significant, from maintenance to customer service and asset management. However a number of questions need to be answerede regarding how this data is most effectively utilised and who ultimately gets to control the data sets themselves. Hear a panel of experts in this field offer their view of what the future of big data in aviation will look like.
10 10 AM

What should the next 40 years of aviation look like?

The historic of commercial aviation is one paved by epoch defining milestones resulting in an increasingly interconnected and technologically advanced world – the question that lies before us though is what next? Hear four experts give their take on what will define the next era in aviation.
10 50 AM

Morning networking break & refreshments
11 10 AM

Has the aircraft ABS product gone mainstream?
How can investors and issuers find value in younger aircraft placed in ABS pools?
How have issuers and arrangers managed to achieve increasingly investor friendly debt structures?
How strongly has the secondary market developed and what is the outlook for 2020?
11 50 AM

Is the aircraft finance industry overfunded?

For a number of years now the amount of capital chasing deals in the aircraft finance space has been steadily increasing, along with the number of individual entities involved, and sources of capital. What impact has this had on the industry more broadly and what ought to be done about it?
12 30 PM

How will sustainability demands impact the structure of aircraft financing and leasing?
How strong is the prospect for aviation to achieve greater levels of environmental sustainability and is this being driven by investors' sustainability goals?
What impact has the Corsia compensation program had on the industry?
Will green flight ever be a reality?
13 10 PM

Chairperson's closing remarks
13 20 PM

Networking lunch and close of conference
Sponsors
Attracting thousands of participants annually from airlines, leasing companies, financial institutions, investment houses and government bodies, our events provide you with an unparalleled platform from which to promote your organisation's brand, products and services.
Find out more about our sponsorship opportunities
Founding Sponsor
KPMG
KPMG is globally recognised as the centre of excellence for the aircraft leasing industry. Almost every aviation finance industry player of any significance can be found on our client list. We have been identified as one of the 30 most influential companies operating in the global aviation sector. We have advised on aviation transactions in over 150 countries worldwide.
---
Gold
Bocomm Leasing
Bank of Communications Financial Leasing Co., Ltd ("Bocomm Leasing") is a wholly owned subsidiary of Bank of Communications, the 11th largest bank in the world. It was established in 2007 with a registered capital of USD 1.3B. By the end of 2018, with its total assets of more than USD 33B, Bocomm Leasing is the largest leasing company headquartered in Shanghai and one of the aviation leasing leaders in China. Furthermore, Bocomm Leasing is the first Chinese leasing company which establish professional leasing subsidiary in Chinese free trade zones. Its fleet consists of about 220 aircrafts in service and about 160 aircrafts in backlog. With over USD 11B aircraft assets, it has more than 50 domestic and international well-known aviation customers.
 
Bocomm Leasing can offer both finance and operating lease products. With competitive multi-currency (such as USD, JPY, EURO, RMB) financing tools, we could meet specific customers'requirements via SPVs set up both on-shore and off-shore. Powered by professional and innovative management, Bocomm Leasing is endeavored to provide aviation customers with value-added and tailor-made leasing services.
 
Innovation:
First lease transaction through SPV established in Shanghai Free Trade Zone (SFTZ);
First finance lease transaction denominated in JPY by Chinese Leasing company through an offshore SPV;
First spare engine lease transaction through SPV established in SFTZ;
First operating lease transaction for Airbus Tianjin assembled A320 through SPV established in Tianjin Free Trade Zone;
First Chinese leasing company to establish subsidiary.
Company website:
https://www.bocommleasing.com/en/index.mvc
CMB Financial Leasing
CMB Financial Leasing Co., Ltd. (abbreviated to the "CMBFL"), approved by the State Council, is one of the first batch of five financial leasing companies affiliated with banks in China. With the approval from China Banking Regulatory Commission, CMBFL was founded in March, 2008. CMBFL is a wholly-owned subsidiary of China Merchants Bank (abbreviated to the "CMB") with the registered capital of RMB 6 billion. CMBFL opened on April 23, 2008. Since the establishment of CMBFL, it has been actively researching and developing all kinds of financial leasing products in accordance with the need of the physical economy. CMBFL launched financial solutions for clients from various fields of industry including aviation, shipping, energy, equipment manufacturing, energy saving and environmental protection, health industry, public utility and culture industry, financial leasing companies. The clients of CMBFL come from a variety of large, medium and small companies. CMBFL permanently persists in the core values of "Service, Innovation and Moderate" and the corporate objective of "High-Base, High-Standard and High-Level". The balance of the leasing assets of CMBFL exceeded RMB100 billion in Sept. 2014 which made CMBFL among the ranks of "100 billion" financial leasing companies. On the new development stage, CMBFL has formally established the strategy of "internationalize, professionalize and differentiate" so as to build sustainable competitive edge to become the expert in financial solutions with excellent professional service abilities, and be committed to becoming the best financial leasing company in China. The balance of the leasing assets of CMBFL exceeded USD25 billion in Dec. 2018. 
ICBC Aviation Leasing
ICBC Aviation Leasing Company Limited, a wholly owned subsidiary of ICBC Leasing, was established in Hong Kong in March 2018 with a registered capital of USD 1.2 billion. ICBC Leasing, established in 2007 with a registered capital of CNY 18 billion, is wholly owned by ICBC Bank. ICBC Leasing is one of the leading players in China's leasing industry with a local and overseas asset portfolio worth more than CNY 300 billion.
By the end of September 2019, ICBC Aviation Leasing has delivered a grand total of 482 commercial aircraft and the total number of commercial aircraft owned and managed has reached 730. ICBC Aviation Leasing provides innovative fleet leasing solutions for 83 domestic and global airline clients across 38 countries and regions. The fleet value in operation reaches around US$ 19 billion and ranks No. 6 worldwide and No. 1 in China.
ICBC Aviation Leasing has won many important awards from multiple Chinese and international authorities. Its growing business has spurred the company's social responsibility and it has launched various CSR projects and encouraged employees to give back to society with love and responsibility.
Through the integration of domestic and international participants, ICBC Aviation Leasing aims for high standards of professionalism and efficiency. By leveraging the advantageous financial, legal and tax environment domestically and abroad, ICBC Aviation Leasing has developed into a globally competitive aircraft leasing company.
 
Milbank LLP
Milbank, Tweed, Hadley & McCloy LLP is a leading international law firm that provides innovative legal services to clients around the world. Founded in New York over 150 years ago, Milbank has offices in Beijing, Frankfurt, Hong Kong, London, Los Angeles, Munich, São Paulo, Seoul, Singapore, Tokyo and Washington, DC. Milbank's lawyers collaborate across practices and offices to help the world's leading commercial, financial and industrial enterprises, as well as institutions, individuals and governments, achieve their strategic objectives.
Air Lease Corporation
Air Lease Corporation is a leading aircraft leasing company principally engaged in purchasing commercial aircraft and leasing them to its valued airline customers worldwide.
---
Silver
Avation PLC
Avation PLC is a commercial passenger aircraft leasing company managing a fleet of aircraft which it leases to airlines across the world.

Our customers include Flybe, Virgin Australia, Thomas Cook, Air France, easyJet, Eva Air, Philippine Airlines, Air India, Vietjet Air, Fiji Airways, Mandarin Airlines, Cebu Pacific, Garuda Indonesia, Galistair, airBaltic and Danish Air Transport.
Voyager
We are an Ireland-based global aircraft leasing company with assets approximately $2.2 Billion.
 
Our strategy is to continue growing Voyager as a leading lessor of mostly new and young passenger aircraft.
 
We are managed by Amedeo (www.amedeo.aero), an industry-leading asset manager and aircraft investor. Our team, working together with Amedeo, will actively pursue growth in all three acquisition channels – new orders directly with the aircraft manufacturers, sale and leaseback transactions with airlines, and portfolio acquisitions from other lessors. Our aim is to generate stable and highly visible revenues, earnings and cash flows.
 
The current portfolio is on lease to 7 airlines in 6 countries. Our customers are mainly flag carriers and other strongly-positioned airlines which typically deploy our aircraft on key international routes. We have grown rapidly over the past four years and our focus has been on markets with the greatest growth in demand for air travel, especially in the Asia-Pacific region.
 
While our heritage is based on primarily acquiring wide-body aircraft, over time we intend to broaden both our asset base and our global footprint. We designed our business model from a strong capital base provided by our shareholders, Amedeo Capital Limited and two large New York based private equity firms.
Apex Group
Amedeo
Amedeo is a leading aircraft asset manager and principal investor in leasing transactions to our customer airlines globally. Amedeo is the asset manager for LSE-listed investment companies and Voyager Aviation Holdings (Voyager), originating and managing aircraft leasing transactions on behalf of these entities.
---
Bronze Sponsor
Novus Aviation Capital
Novus is an independent, privately-held aircraft leasing platform, focused on investing, leasing and financing of commercial aircraft assets. Established over 25 years ago, the Novus team operates globally out of six offices in Europe, Asia and the Middle East. The company has an aircraft portfolio under management worth about USD 4 billion.
Company website: www.novus.aero
ACC Aviation Group
One of the world's leading aviation service providers, ACC Aviation Group provides market-leading expertise across aircraft leasing, asset management, strategic consultancy, aftermarket aircraft interiors programmes and air charter.
Through our international office network spanning the UK, mainland Europe, North America, the Middle East and Asia, we serve a diverse, global client base who trust our experts to deliver a comprehensive range of bespoke aviation solutions.
www.accaviation.com
 
---
Venue
The Convention Centre Dublin
The Convention Centre Dublin, Spencer Dock, N Wall Quay,
Dublin,
IE


Airfinance Journal are pleased to return once again to the award-winning CCD in Dublin.
Complimentary airline & investor passes
We offer complimentary passes to airlines and investors.
We have invested time and resources into industry research and shaped Airfinance Journal Dublin to suit your needs. 
Book meetings with who you would like to meet and for how long you are available. 
Have the freedom to network in an open, relaxed environment. 
Taking place in the Convention Centre Dublin, a world-class conference venue in the heart of Ireland's capital city. 
*All complimentary delegate passes are subject to approval from the Airfinance Journal Events team. Unfortunately, we are unable to offer this promotion to sell-side representatives or Investment Banks. Sell-side representatives and Investment Banks can register for this event here. 

For anymore information please contact Kate Skinner
T: +44 (0) 20 7779 8281
E: kate.skinner@airfinancejournal.com
Follow us and share your content!
    @AirfinanceNews
    Airfinance Journal 
#afjdublin
Why Sponsor
In addition to exhibition and delegate packages we also offer a range of comprehensive sponsorship and advertising options.
Sponsor an Airfinance Journal event and benefit from:
Direct access to your target market 
Put your brand infront of aviation finance leaders from airlines, investors, lessors, banks, manufacturers and more.
Increased exposure to our database
Your logo and messaging will be featured on our marketing emails, print material, social media and digital advertising pre, during and after the conference.
Generate hundreds of highly targeted business leads
Position your brand infront of the entire aviation industry. You will also receive your very own pre-conference marketing pack to ensure you gain maximum exposure and generate interest.  
Benefit from exclusive services only available to our sponsors
Participate at the conference that puts you in the drivers seat with your own wish list of attendees and your dedicated marketing contact leading up to the conference. 
;